JA Scholarships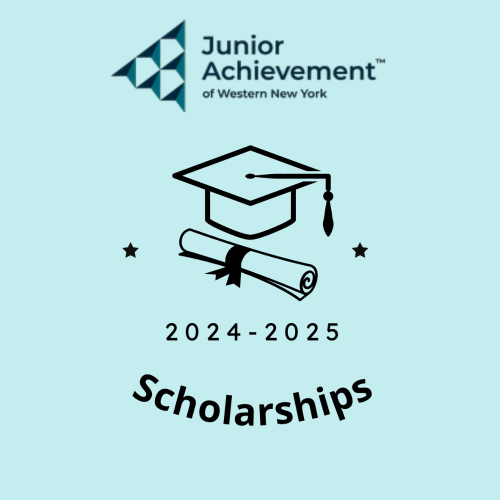 1st place will be awarded the $1,000 John Lord Hettrick Sr. Memorial Scholarship
2nd place will be awarded the $500 JA of WNY Board of Directors Scholarship

Students must be high school seniors who have participated in a JA program or event/experience within their high school career.

- Students must plan to attend an accredited college within two years of being awarded, to be considered.
- Complete all parts of the Application, by May 14, 2021, including:

Essay- Choose from the options below. Submit typed essay, answering any ONE of the questions noted below. Completed essay should be 500-750 words max, 12 pt. font.

1. How has participating in a JA program or event prepared you for success in your future education/career goals? If pursuing STEM related education, please indicate what led you to your choice.

2. You are living through a unique time. Given the unprecedented school closures and disruption to everyday life we are all currently facing, what skills have you used and developed during this time that you think would be helpful down the line in your college and career experience? How have you adapted to meet the needs of the situation?

3. Describe the impact your JA teacher and/or volunteer has had on you personally.

4. JA programs focus on three important pillars of success: Financial Literacy, Work Readiness and Entrepreneurship. Choose one of these pillars and describe how participation in JA has influenced you at this point of your life. For example, have you developed a better understanding of budgeting or savings through participation in a JA program?

Students DO NOT need to send transcripts or letters of recommendation.

Students that apply will be eligible for either scholarship. If selected as a scholarship recipient, students will be asked to provide proof of enrollment in college as funds from this scholarship will be paid directly to the recipient's college.

To submit: All applications should be emailed to Alycia Ivancie, Education Director, no later than Friday, May 14, 2021.
For more information about this opportunity, please contact
Student Information Form
We use cookies to provide you a personalized experience. How we do this is by analyzing user behavior on our site and sharing data with our advertising and analytics partners. You consent to our cookie policy if you continue to use this website.